July 29, 2016 1:27 am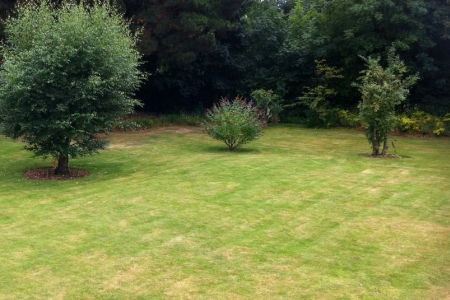 It happens every year: your lawn burns out, browning as it succumbs to summer heat. What's a homeowner to do?
Lawn grass needs water to thrive—even cool season grasses that go dormant in hot weather, says Mike McGroarty of MikesBackyardNursery.com. If your lawn hasn't received water due to a hot, dry spell, there's a chance some areas of it may die.
Burned-out lawns can be revived with an overseeder, which is a machine that drops grass seed into pockets of soil. An overseeder can be rented at a home improvement store, such as Home Depot.
Apply weed killer before overseeding, McGroarty recommends—weeds tend to grow in areas damaged by drought.
Home Depot advises homeowners to remove damaged grasses and dead weeds, out to a six-inch radius beyond the patch, before overseeding. Home Depot also suggests turning the soil to a depth of six inches, removing rocks or roots that could inhibit new growth, and adding compost or manure to the turned soil—this step will fortify the foundation of the lawn.
For more tips on overseeding, visit blog.homedepot.com.
Published with permission from RISMedia.